Horse

$

118.18 –

$

195.45
Champion Tails Pony Length False Horse Tail Extensions 61cm to the cut off point.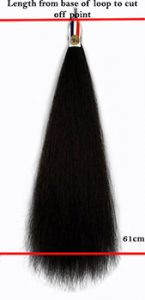 Pony length False Tails can surprisingly be used by some Galloways and Hacks. If they have a long dock or the owner prefers a shorter tail.  It is amazing how many people use them.
If you are unsure of the thickness you need for your horse please follow this link.
https://championtails.com/wp/horse-hair/champion-tails-tail-information-guide/
Our pony length false tails can be custom made at no extra charge to suit your pony. All are made of top quality genuine horse hair and all come with a lifetime guarantee on our workmanship.
All triple & weighted tails come with two loops for the comfort of your horse.
Select options

$

34.09
Champion Tails False Forelock Extensions. We have two types, free flowing and plaiting. Free flowing for horses needing that extra length and plaiting for those horses who do not have enough hair left to do a nice even plait to their forelock. The free flowing is used in the photo on this page. The horse had not much forelock and with the free flowing forelock added changed the look of her head completely. Make-up finished her look perfectly!
Select options

$

22.68 –

$

27.23
CHAMPION TAILS Highlight make-up is great for shading your horse or pony. The Blue Black is exactly that a very black make-up with a natural finish. The more you use it the more it will adhere to the hair. Put it on fairly thickly the night before around the eyes and then wipe off excess in the morning. Add the CHAMPION TAILS clear highlight if a glossy shine is required.
The Red Black is for chestnuts or horses with that hint of red. Excellent finish, use as above.
The chestnut Highlight can be used to cover scars or marks on chestnut horses. If you need it to be lighter just mix with a small amount of white cover creme. If you need it darker mix with a little of the red or blue black.
The Stayz  Range of products have a mat finish. They are great for shading legs and around the eyes.
The Liver Stayz On is amazing for shading the chestnut horses legs. Just apply onto the leg and spread downwards as you would for a bay horse. Gives that lovely leggy finish. Or even can be used on the knees of a palomino to give more definition to the knees and hocks.
Select options