Champion Tails Stain Remover was developed especially to break down urine stains and any complex dirt stains.
This pony's tail has been washed using the Champion Tails Ready Mix Stain Remover.
So easy to use, just spray onto the tail, leave for a few minutes lather and then rinse off. Condition well with Champion Tails Silver Highlight Conditioner.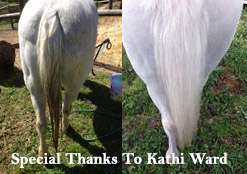 The horse here had bad stains for many years and was washed using the Champion Tails Silver Highlight Powder Stain Remover. Make sure you dissolve it well in very hot water then add to your bucket.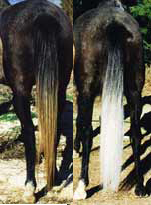 WITH SPECIAL THANKS TO SHOW PREP AND PLAITS FROM GRACE
Here is a common question that I get asked …
How to whiten tails!!!
I've seen a few posts about this before with lots of ways to do it . But I've been doing it the same way for 10 plus years with the same product .
The horse in the photo has been unrugged for a few months and being a mare she has gotten her tail very dirty ! And she is meant to be going to a show this weekend
????
What I personally use is RESTORE PURPLE SHAMPOO from CHAMPION TAILS.
I started by washing the tail twice to remove dirt , poo and gently pull apart dreadlocks . After this the tail is mostly clean , but not crystal clear white as there is months of staining in the tail.
Next what I do is let the tail dry completely . Once the tail is dry I then re add the purple restore shampoo to the dry tail and do not wash it out . Then I just put the horse back in the paddock with no tail bag and let the sun work its magic! Yes the horse may have a purple tail for a day or a couple of days but the sun seems to lift all the stain and yellow from the tail . The purple colour fades over the couple of days and I have a white tail again ! Sometimes the tail will be a little dry so I just pop in some conditioner and it comes up beautifully .
And that's how I personally whiten a tail