false tail with own hair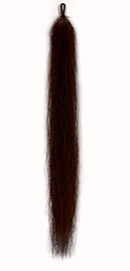 $

86.36
Champion Tails Remembrance Tails are exactly that. If you have the very sad event of losing your beloved horse and would like us to make their tail into a false tail that you can display and have forever. This is what we can do for you.
If however you would like to use the tail as a false tail please realise it takes much more than one tail to make a false tail for use.
For an extra cost we can use your horses own tail and put that on the outside of the false tail then add more hair which matches to the inside of the tail so you can always look at the outside of the tail and know that this hair is from your horse.
Add to cart
Showing the single result